Concrete Contractor in Encinitas, CA | Pool Decks, Driveways, Patios & More
Exceptional Concrete Contractors and Masonry Contractors in Encinitas, California
Looking to complete your concrete or masonry project in Encinitas?
We're here for you. Encinitas, a small beach city in southern California, offers a luxurious neighborhood with tons of fun activities. The city boasts a diverse culture, and its general population is known for its vibrant personalities. 
Life in Encinitas city offers a breathtaking experience, with sparkling schools, modern hospitals, and beautiful homes, all a mark of craftsmanship. When it comes to improving the curb appeal, nothing beats expert advice. Encinitas Pro Concrete Co. is a highly rated concrete and masonry contractor, with an unparalleled reputation for satisfying clients' needs.
We give you the chance to look at your property from a new dimension with our reliable services beyond just meeting your design needs.
In a densely populated area with an athletic population such as Encinitas, all you need is an incredibly built outside space that can inject a new life into your property and give you the feeling of top-quality interior designs.
Dial (760) 283-6733 to get free quotes today.
Encinitas Pro Concrete Co. is the concrete driveway contractor that you can believe in. We provide dependable, factual, and rightful information about concrete use and decorative options for a shiny indoor space. Dial (760) 283-6733 for free estimates from the top experts of concrete and masonry in Encinitas, California.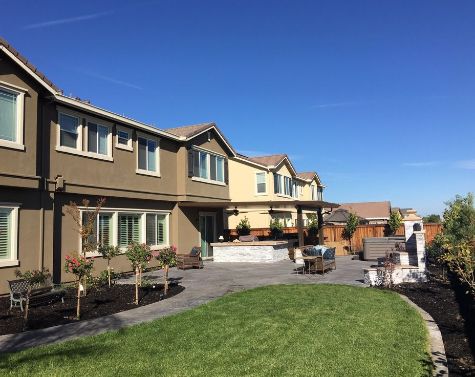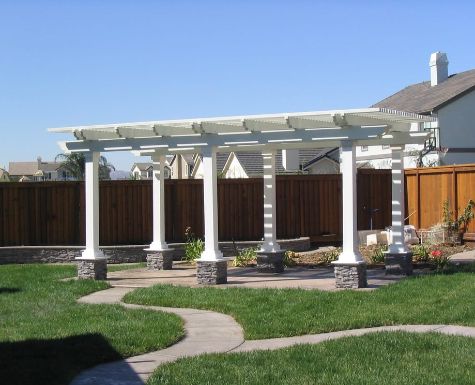 Professional Concrete and Contractors in Encinitas, CA
We, at Encinitas Pro Concrete Co., has been in the industry long enough to know what will work and what will not work for homeowners. And we use our professional skills and real-world knowledge to create an environment that's perfect for family meetings, evening coffee sessions, and unwinding.  
We've stamped our authority in the construction sector throughout Encinitas with our valuable concrete and masonry services that speak volumes. If you are here because of your next construction project, chances are, you need one of concrete, stone, or brick masonry services. And we can handle it all. 
Concrete is one of the most popular construction materials today, and we're glad to help you get what you deserve for the right price. Our huge followers in Encinitas enjoy working with us, and we've stayed ahead of the rest because of high-quality services at all times. Our commitment is unmatched, and we also keep an open mind for suggestions to improve user experience.
We're open for one on one discussions to have a clear picture of your project and ensure the final product satisfies your needs.
Encinitas Concrete Contractor
We're glad you stopped here to see our services because we are the best at what we do. Over the years, residential homeowners, real estate owners, schools, and hospitals have trusted us with one service; delivering quality projects. Is it concrete masonry that brings you here? Maybe natural stone for that incredibly designed patio? Whatever your concrete project is, we can handle it all with ease.
See folks, and it's not easy to satisfy your construction needs if you work with unreliable contractors who will only appear once then vanish, never to be heard from again, even before they complete your project. And this is what puts us ahead of the pack. Client trust is essential to us. And we bring credibility in the industry with our team of competent contractors who understand their thing with concrete, brick, and stonework.
The proof of the quality of our services lies in what you get from working with us. Our team consists of extraordinary professionals who are driven by a passion for their work and attention to the slightest details. You will get a full-service team of reliable professionals anytime you reach out to us for a free quote on your project. Contact us by dialing (760) 283-6733 today.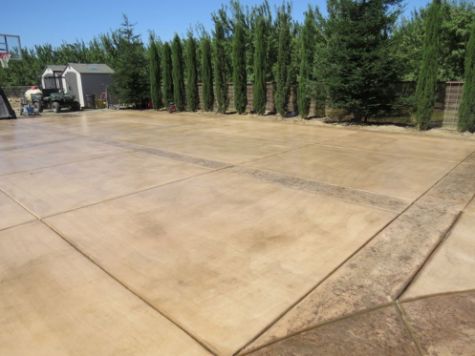 A well-built concrete driveway is a perfect answer to all homeowners who prioritize curb appeal. We talk extensively about concrete driveways because that's what we are known for.
Are you here for the fascinating aspect of decorative concrete or the heat reflectance property of plain concrete? How about the low maintenance cost, which is critical when working on a tight budget?
See, we build outstanding driveways that will not only endure the enormous human and vehicle traffic in your yard but also guarantee an improved aesthetic appeal. Reach us today by dialling (760) 283-6733 for free estimates.
Let's enjoy the summer because it is finally here.
Why not consider a modern and well-built concrete patio for your exterior design? Are you here to improve your home's face value? Patios are excellent for family gatherings, evening coffee encounters, and a joint relaxation point after a long day of toiling.
Concrete is a versatile material that allows you to create patios of varied styles and designs. Encinitas Pro concrete patio installation process gives long-lasting structures with uncompromised beauty.
Are you looking for a few touch-ups to make your existing outdoor patio great again? Don't worry.
That's precisely why we are a top-ranked patio contractor.
Usually, we don't compare concrete patios with other materials such as natural stone.
Not until recently, when the new stamped concrete patio designs proved us wrong.
Stamped patio designs are synonymous with top-class landscaping as they combine durability with beauty to elevate your home's value.
Dial (760) 283-6733 today for free quotes today!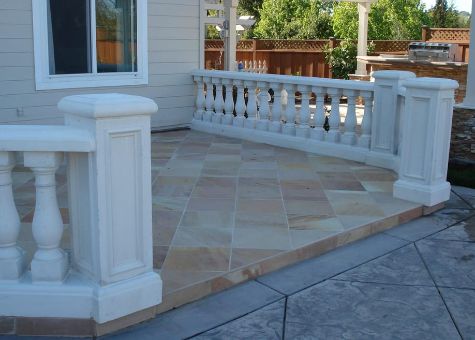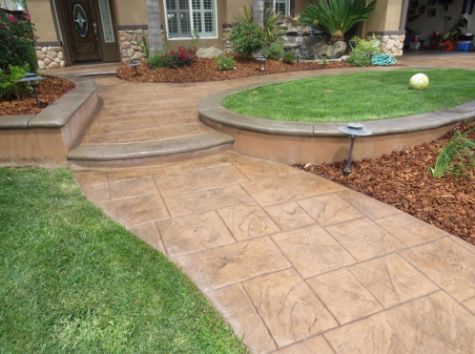 For a stimulating summer experience, there are a few better options than an outdoor swimming pool. And your cool deck is such a significant part because it gives a substantial first impression by determining the accurateness of your pool in the landscape. Once you've settled on a specific pool deck design, it's only right that you get it without breaking the bank. At first glance, an incredible pool deck has much more to it than just assuring aesthetic appeal. Over the decades, poured concrete has been one of the most trusted materials for modern cool decks, and that's our focus. We also do stamped concrete pool decks that are good-looking and durable.
Call (760) 283-6733 today for free quotes today!
There are a few versatile and durable materials than concrete. And modern homeowners in Encinitas are already embracing the beautiful concrete walls in day to day applications because they've realized it's the best human-made material for construction projects.
Today, the question is not whether a concrete wall is expensive, but rather, what can you get for your budget? Is your rusty concrete wall quickly becoming a nuisance? Does it require urgent repair? Reach out to us through our official contact page for more details about our services. 
We create foundation walls, exterior walls, and retaining walls that integrate easily into your environment, looking for decorative concrete walls? Or a substitute to polished concrete walls? We are your trusted brand for all your concrete needs.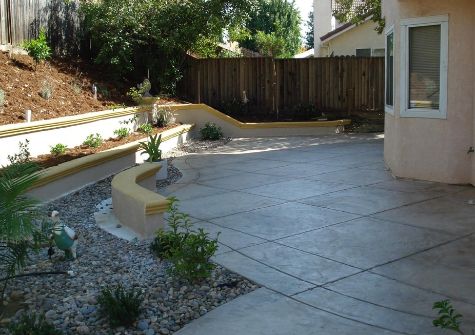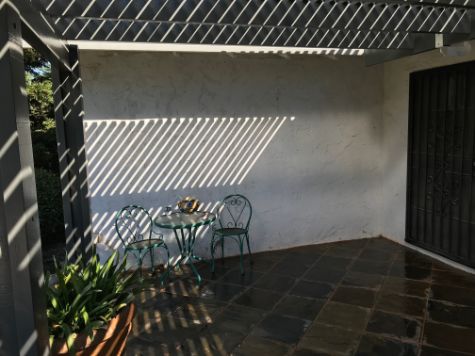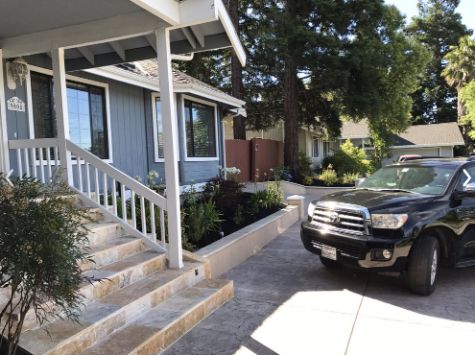 Other Concrete Services We Offer
Aside from the concrete driveway, patio, and pool deck projects we are famous for, we offer a wide variety of minor services.
For instance, concrete resurfacing is another specialty if you want a quick solution to your cracked or damaged surface.
Here are more services clients have consulted us for:
Concrete grinding

Salt finish

Cutting

Countertops

Retaining walls

Concrete repairs

Concrete pavers

Concrete finishes

Decorative concrete

Concrete overlay

Cement driveway

Colored concrete

Cement patio
Dial (760) 283-6733 today for free quotes today!
We always stay up to date with some of the newest projects from the latest articles from concretecontractors.org.
Encinitas Masonry Contractor
Our masonry team is a group of competent individuals, handpicked from the construction sector in Encinitas city and its environs. With first-hand industry knowledge, sufficient industry experience, and a professional full-service team, we deliver expert masonry advice to help you get the best out of your masonry project.
Dial (760) 283-6733 today to get free estimates from our expert masonry team.
Our rich source of information about modern construction includes stonework and brick masonry services. Our designs are comprehensive, and even the most straightforward piece on our catalog can enhance your curb appeal. How about a stone veneer to augment your indoor space? Or a perfect pathway to increase face value? You can get it all from the pros.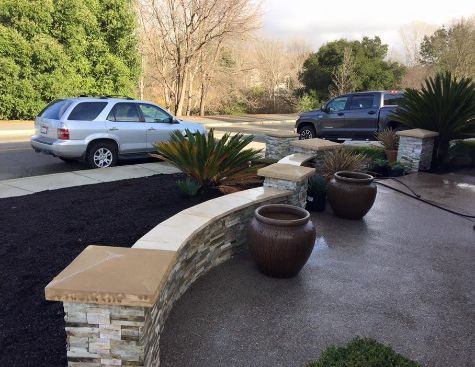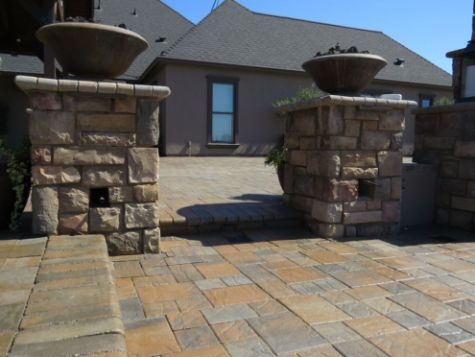 A premium material that's available in a wide variety of colors, designs, and natural selections, natural stone is unbeatable when it comes to beauty and durability. We work with sandstone, limestone, and travertine to give your backyard an aesthetically pleasing look.
There's no denying concrete is a highly sought-after construction material, but you should never ignore the beauty of stone masonry.
If you've been wondering what content to use for your masonry project, check out our tried and tested stone materials for cheap.
For hardscaping or masonry services, we are the solution you've been looking for throughout Encinitas and its environs.
When you work with our stoneworkers, you move one step closer to getting the perfect structure you've been looking for.
Encinitas Pro Concrete Co. is a household name in Encinitas city, with a vast range of stone masonry services including stone pillars, fire pits, fireplaces, paver installation, and foundation walls.
We pack a team of brilliant professionals who will never rest until you get what you deserve. Dial (760) 283-6733 to reach our stone masonry experts today and get free estimates.
Brick might be the best solution if you've been looking for the best materials to create a current driveway. Brick pavers offer a lot more than just satisfying your hardscaping needs. Just like they add quality to your backyard, they can also improve the property value.
Our paving bricks are high for many projects, including outlining flower beds, highlighting walking paths, or even accentuating walls throughout your backyard.
Considering how a more significant this investment can be, its only right that you work with a dependable brick masonry contractor such as Encinitas Pro Concrete Co.
Call (760) 283-6733 today to get free estimates.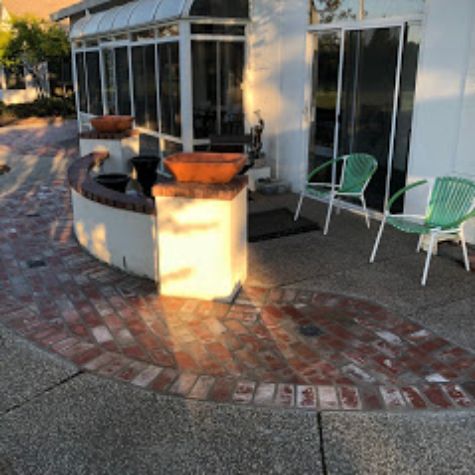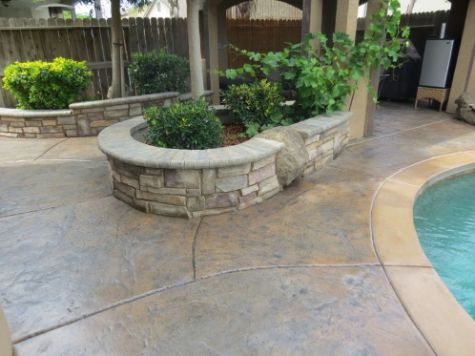 Retaining walls are essential for many reasons. They support the existing structures, prevent soil erosion, and have a remarkable aesthetic property. Individuals thinking of sharp landscaping changes in Encinitas city can never go wrong with these structures.
Carefully designed retaining walls seamlessly integrates into your property and can be the focal point for your outdoor space. We have several design options that will give you high-quality structures for crucial mechanical support. Just contact us at (760) 283-6733, and we'll give you a free quote.
Our masonry services are significant, and we prioritize durability and elegance. Appreciated for its value and durability, natural stone is an excellent material for a plethora of structural designs. Call (760) 283-6733 for free quotes.
Here is a list of other masonry services we offer throughout Encinitas;
Blockwork

Chimney rebuilding

Chimney repairs

Waterproof

Chimney crowns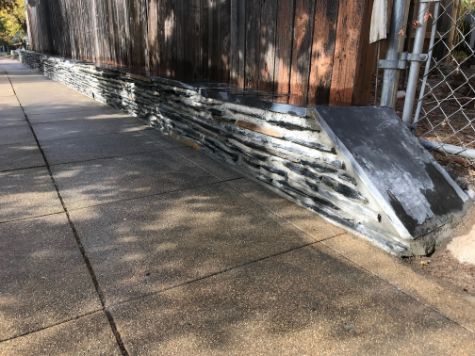 Encinitas Pro Concrete Co. is a family-owned and operated business that has been providing quality concrete works for many years to homeowners in Encinitas and surrounding cities including Lake San Marcos, Rancho Santa Fe, Solana Beach, Del Mar, Fairbanks Ranch, North City, Del Mar Heights, Ocean Hills, San Marcos, and Black Mountain Ranch. Our team of professionals will work with you from start to finish to provide the best possible service for your project.
We've recruited a solid group of people around LA to join our team. This includes an individual who worked his way up in Redondo Beach as a Redondo Beach concrete driveway replacement specialist.
Call us today at (760) 283-6733 or fill out the contact form on this page to get free estimates.
Call Encinitas Pro Concrete Contractor Co. For More Information
There are times when a simple construction project can give you sleepless nights. Even a simple repair project. Traditionally, roofing and masonry services have created plenty of confusion in the broader construction sphere. That's why we're here to clarify everything and help you get what you need. 
Encinitas Pro Concrete Co. is the city's premier concrete and masonry contractor whose role extends beyond just completing your project. We are a self-motivated team, and by putting a smile on your face, we know that we have completed our mission. We are proud and delighted to offer reliable concrete and masonry services, with unmatched professionalism in the region.
Give us a direct call anytime, and you will get all the premium construction services you've been looking for, dial (760) 283-6733 today.