Encinitas Stained Concrete 
The Most Reliable Stained Concrete Contractors in Encinitas, CA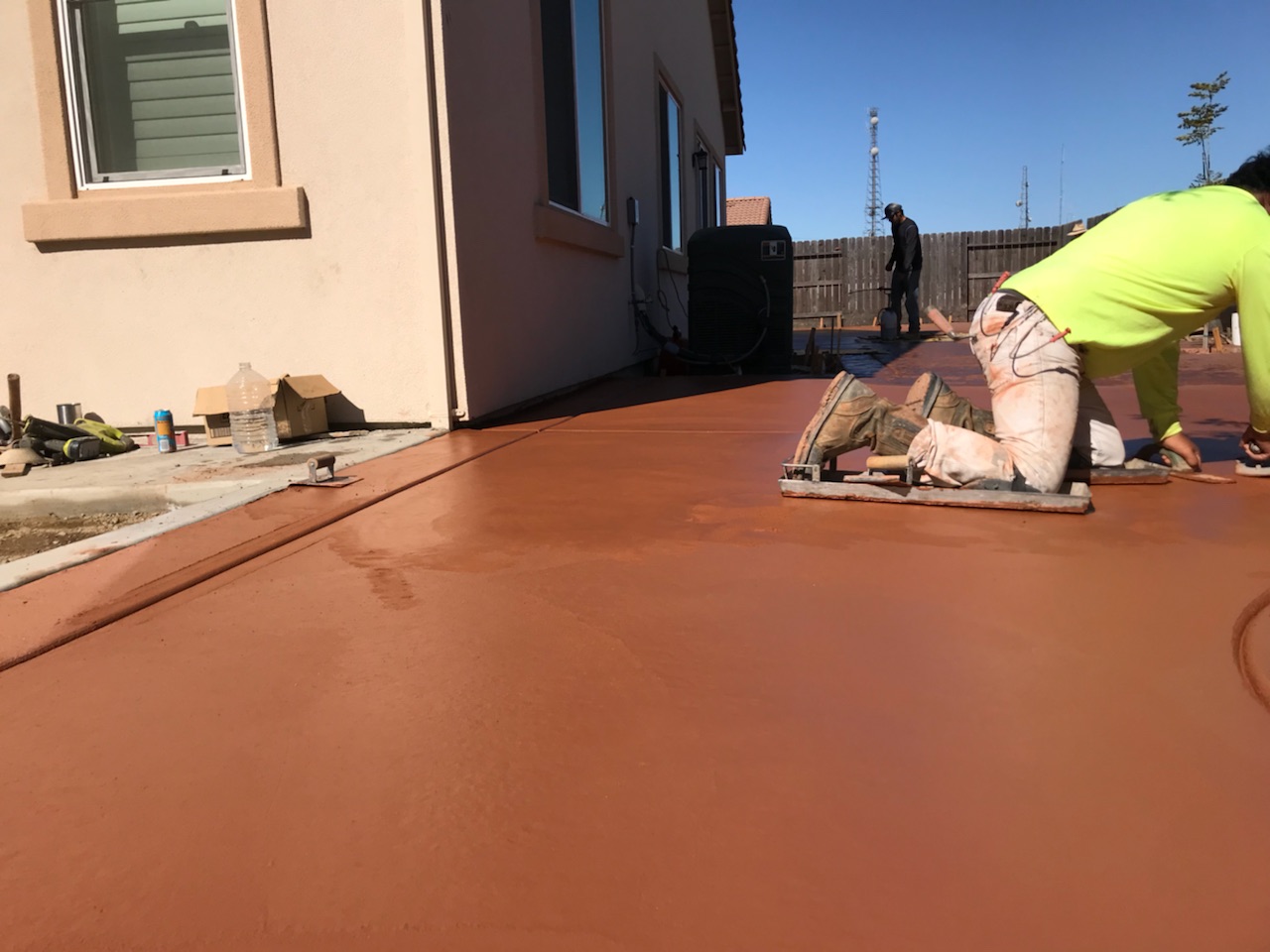 One of the most affordable ways of transforming an exterior concrete surface is the use of concrete stains. Within a few days, you can transform the hardscape from a boring gray color into a lovely stained concrete driveway, pool deck, or patio. In most cases, acid stains can be a durable option for your exterior concrete stains as compared to the water-based formulas.
You can reach at (760) 283-6733 for an obligation-free quote. 
However, when resealed regularly, water-based stains can be a great choice for exterior surfaces. The most important factor when choosing an outdoor concrete stain is your desired look and color.
Acid-based Stains vs. Water-based Stones
Acid stains work by reacting with the surface of the concrete to change its color. You can use it both indoors and outdoors. When searching for an interior concrete stain, you should remember that acid-based stains are a great choice for areas with high foot traffic. This is because they are durable. They also blend well with wood and stone, creating a timeless beauty to your indoor area.
Acid stains can be a great choice for:
Producing a permanent color that doesn't chip, peel, or fades
Provide a rich color variation that adds character and distinction to the Concrete
Deep earth tones that can be easily diluted to create beautiful effects
On the other hand, water-based stains require less labor, less cleanup, and are friendly to the environment. When water-based stains are colored with concrete stains, they will get a vivid and consistent color that is a great choice for modern interior design.
Water-based stains are a good choice for:
Providing a color that isn't available with acid stains
Creating an artistic effect through layering or blending colors
Creating stains that can be easily and safely applied
Stained Concrete Versus Dye and Pain
One of the benefits of stains is that they get into the surface of the concrete, leaving a durable color that doesn't fade, peel, or chip. This can be found in translucent, earth tones, stains impact rich, and much more. If there are any stains or imperfections, these will be visible even where several coats of stains have been applied.
Concrete stains serve to coat the surface and create a color layer that will eventually wear out. Paint can easily chip, peel, and fade. It's different from stains as it leaves a great and consistent color. You can use paint in the outdoors or indoors.
Concrete dyes are a good choice for providing you with a wide range of vibrant colors such as blue, yellow, and purple. These can be combined with stains to ensure that the final color is improved. Like it's the case with stains, dyes can leave a transparent color. However, they will dry faster than stains and will not need a lot of cleanups. Dyes can be used to add color to the polished concrete. Their downside is that they aren't a suitable choice for outdoor use as they lack UV stability.
Choosing a Concrete Staining Color
When it comes to the process of choosing a color, you will have unlimited options. Acid stains often produce a wide range of variegated earth tones. The water-based stains, on the other hand, offer a wider range of hues such as white, black, orange, and yellow. If you work with an experienced concrete contractor, they can blend different colors to create a custom shade.
The Concrete Staining Process
Whether you have an old or new concrete surface, it's possible to apply concrete stains. The process required will depend on the stain used, whether you will apply it outdoors or indoors, and your desired effect. Make sure you go through the manufacturer's instructions when choosing your desired staining method.
There are four steps involved in concrete staining. These are:
Preparation of the surface
Applying concrete stains
Cleaning and neutralization of the acid stains
Concrete sealing
This process is best left to the experts. If you don't want to be disappointed with the final results, you should work with an experienced concrete contractor. At Encinitas Pro Concrete Co., we have helped our clients with the concrete staining process in Encinitas.
You can reach at (760) 283-6733 for an obligation-free quote.