Encinitas Stamped Concrete
 Number One Stamped Concrete Contractors in Encinitas, CA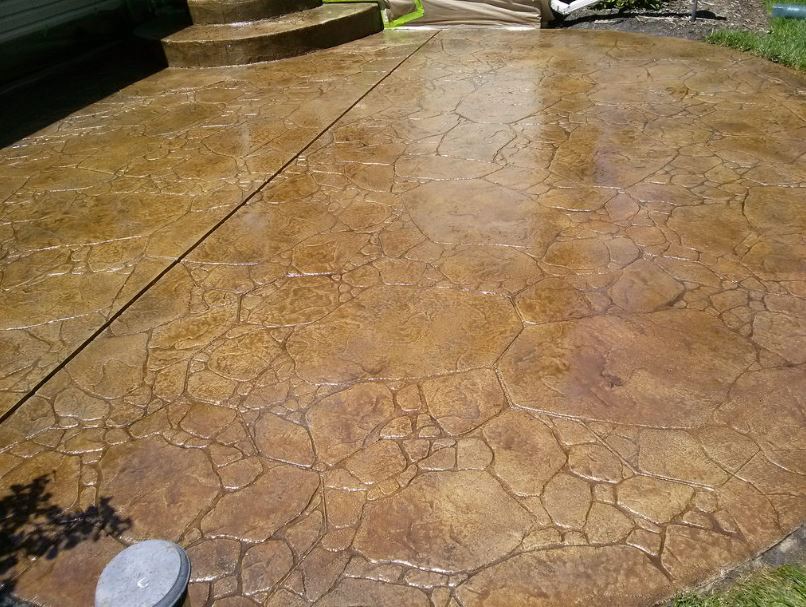 If you are looking for ways to add patterns, texture, and color to your concrete flooring or surfaces, look no further as Encinitas Pro Concrete Co. has the perfect solutions. You can turn any dull or plain concrete slab into a beautiful eye-catching surface when you choose stamped concrete as a concrete finishing.
Our concrete stamping and concrete overlay installation services are outstanding as we work hard and smart to ensure we beat industry standards and the expectations of our customers. Our guarantee of high-quality results is backed up by years of experience in the decorative concrete industry. As long as you are in the San Diego CA area, our matchless expertise is within your reach. Call us today at 760-283-6733, and let's beautify your home.
Stamped Overlay or Concrete Stamping: What's The Difference?
Stamped concrete is a procedure that involves stamping freshly poured concrete with a mat that has patterns. A flawless stamped concrete surface can't be done on an existing concrete surface unless the old slab is removed, and a new concrete mix is poured; then, it can be imprinted. If you are coloring your concrete slab, then the pigment would be mixed with the fresh concrete before pouring, and stamping takes place. 
A patterned overlay or stamped overlay is a decorative option that is applied to already existing concrete surfaces. It has the same look as stamped concrete, offering a great aesthetic boost to your driveways, patios, pool decks or walkways but doesn't come with the work of removing the existing concrete. It is a quick fix to restoring or updating worn-out or old-looking concrete surfaces as it involves thin layers of concrete poured over existing concrete surfaces then stamped with a pattern. 
Our Concrete Revamping Services
The only constant thing is change, and imprinted concrete overlays will change and lose their luster over time. Thankfully, it can be upgraded or renovated to look like a brand new concrete surface. If you have an old stamp overlay that needs to be renovated, then be confident in Encinitas Pro Concrete Co. as we will provide you with refinishing, restaining, resealing, and recoloring services to our customers in the North County area and its environs.
We can restain old pattern overlays of your driveways, garden pathways, and kool decks to boost vibrancy and sheen. We can also recolor your aged overlays to be more vivid. Resealing can be done on your overlays to maintain its color and luster for at least five years before requiring another reseal job. 
Stamped Concrete or Overlays – Which Is Better?
At Encinitas Pro Concrete Co., we recommend finishing your concrete driveways and patios based on your budget, style, and needs. Your choice between stamped concrete and overlay is dependent mainly on how you want your concrete to look, whether it's brand new or an existing surface. 
When you contact us, you will speak with one of our experts who offers you ideas, suggestions, and even catalogs of stamp designs. You can also request a customized stamp for your concrete surfaces. Contact us at 760-283-6733 and get a great insight into what you want for your stamped concrete floor.
The Versatility of Stamped Concrete
If you desire, you can install your stamped concrete floors to match your roof or interior wall design, making for a beautiful facade. The stamped concrete can be constructed in a variety of designs and colors to complement your home's color scheme. 
Stamped concrete is a great option that can give your property major curb appeal while offering space functionality and durability while decreasing maintenance needs, unlike other types of flooring that require constant cleaning to look good.
You can get your driveway or patio looking incredible with patterns that mimic fractured slate, river stone, cobblestone, limestone, etc. in a variety of colors ranging from Venetian pink to walnut. When you combine stamped concrete with concrete staining, you can create virtually any look you desire for your outdoor space at an affordable rate. Even brand logos can be turned into concrete stamps for 100 percent customization to make your business space unique and sophisticated.
We can't wait to show you the numerous ideas for having for your concrete patio, pool deck, business entryways, and sidewalks that would make your premises the cynosure of all eyes. Get the best of stamped concrete services in Encinitas alongside honest estimates and high-quality results on your next concrete job with Encinitas Pro Concrete Co.!
Call us at 760-283-6733, and let's give you a free estimate!