The Most Reliable Patio Contractors in Encinitas, CA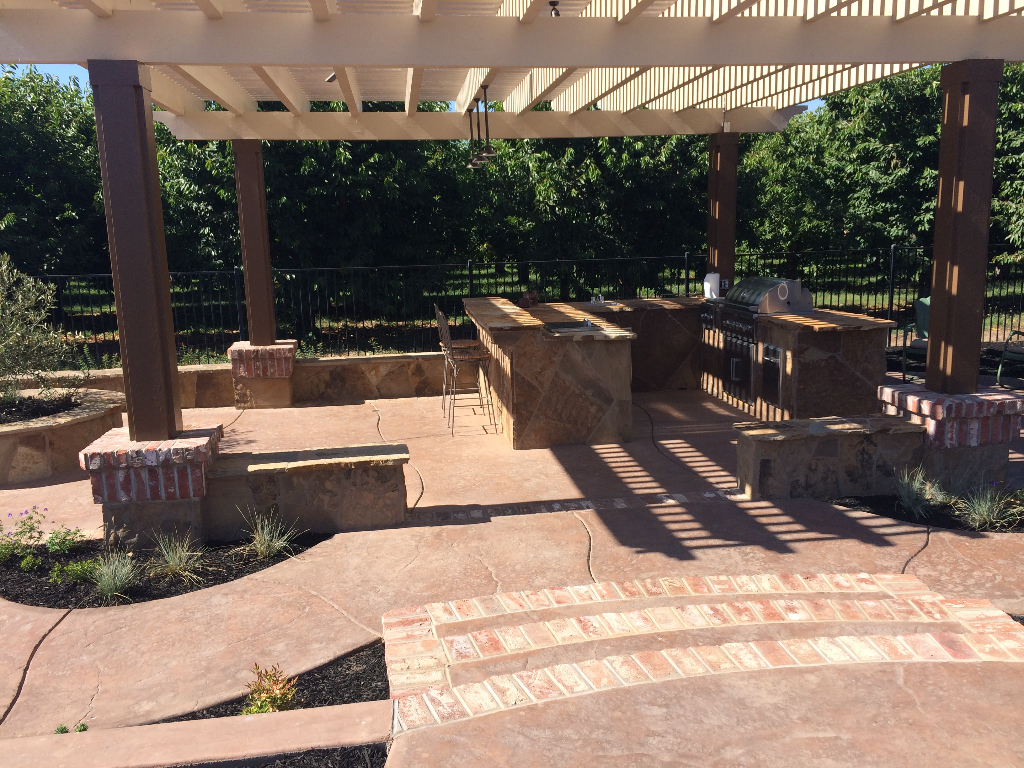 Whether you have a large yard with plenty of space to work with or a limited amount of space, patios are a great way to ensure your yard attains an aesthetic value that will leave an amazing impression on anyone who comes visiting, a statement that will make its owner proud. 
Make An Empathetic Statement With Incredible Patio Designs
Patios serve as a relaxation/isolation spot for most homeowners, and this purpose can only be achieved when it is built with the best possible standards, and at Encinitas Pro Concrete Co., we ensure that patios tell a beautiful story as we make use of the best techniques while applying the most modern designs in achieving top-notch quality jobs. 
The first step to achieving that outstanding patio is by calling us at 760-283-6733 today for more details on our services.
Concrete Patios
In recent times, more homeowners have leveraged on the numerous advantages patios made of a concrete offer, in terms of looks, durability, flexibility in styling, and the general feel it elicits. 
Concrete patios are a great choice for any kind of function that a homeowner might want to explore; it works great for an outdoor entertainment area, gives amazing vibes for a more serene relaxation/study spot, and it will also be great as an eating area. 
One of the most notable advantages concrete patios offer is its ability to mimic other types of popular patio materials such as wood and natural stone, an ability that cannot be replicated by other types of patios. 
At Encinitas Pro Concrete Co., our constructed concrete patios have a few noteworthy advantages that include the following:
Our well-constructed concrete patios are climate-friendly as they will not be degraded by conditions such as rain, snow, or even chemicals used in the case that there is a swimming pool in your home. 

The cost of constructing patios with concrete is considerably much less than constructing the same kind of patio with other materials.

Well constructed concrete patios have been proven to stand the test of time as they are more durable and, at the same time, require less maintenance than other types of patios. 

Concrete can be made in a variety of ways that will suit a homeowner's needs.
Concrete Patio Options
A good reason why most homeowners are opting for concrete patios lies in the fact that there are good options that can satisfy their desires in terms of looks, class, and form. Here are some great options for your concrete patio ideas:
Concrete Pavers
For homeowners looking to build durable patios with concrete that looks like patios made of other beautiful but less durable materials, the concrete pavers would be a really amazing option to look at. Concrete pavers are basically colored stones/tiles that come in a good number of stunning designs. 
If you love the feel, a natural stone patio, or a patio made of wood will evoke, concrete pavers are your go-to option. 
Stamped Concrete
With stamping, homeowners are presented with incredible advantages. Stamped concrete offers outstanding durability, which reduces the need for major repairs or replacing stones. With stamped concrete, homeowners have the freedom to select designs from a wide range of available options, patterns, shapes, and colors because as far as patios are concerned, stamped concrete remains the most versatile, yet affordable option.
At Encinitas Pro Concrete Co., we utilize specialized techniques to ensure your stamped concrete patios give you maximum satisfaction on any pattern you choose.
Poured Concrete
This is a simplified version of the stamped concrete. Without the glamorous effect of stamping, poured concrete patterns offer homeowners standard looking patios with their desired layout and the chosen design.
What We Offer
Based in San Diego, Encinitas Pro Concrete Co. offers a wide range of concrete-related services with the highest level of professionalism, and our passion for creating areas with intriguing features makes us your best option for creating new patios, as well as maintaining already existing patios. 
You can take advantage of our affordable and flexible rates today when you call us at 760-283-6733! We will be delighted to create your beautiful patios in Encinitas that will stand the test of time.