Encinitas Colored Concrete
Most Reliable Colored Concrete Contractors in Encinitas, CA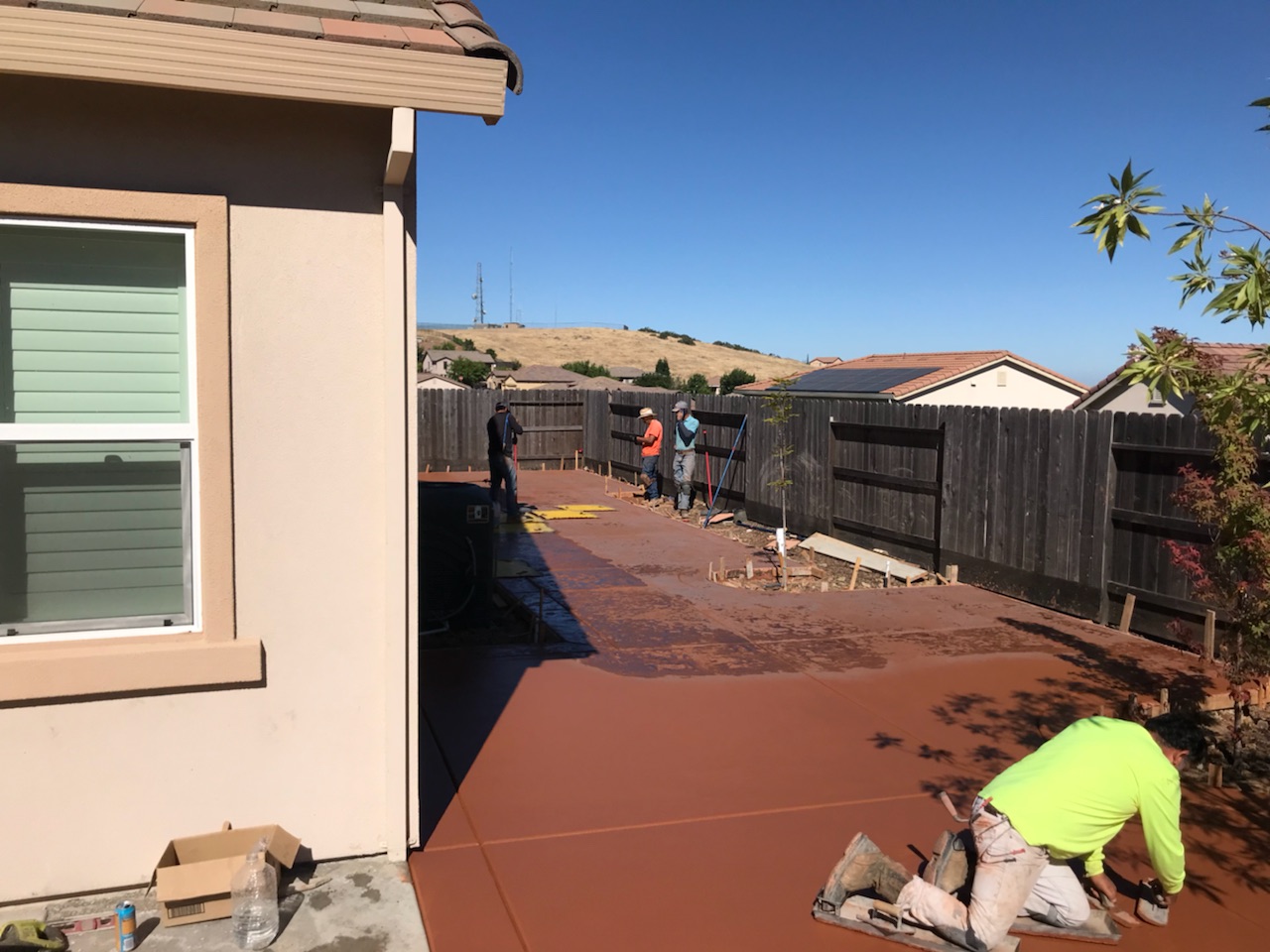 Gone are the days when people thought of concrete as just a drab unappealing grey mass that had no aesthetic value. In recent times, more home designers and homeowners are getting creative with concrete and making it look incredible. From creating stunning patterns out of concrete to coloring concrete with acid or pigments, concrete is getting a well-deserved chance in the spotlight.
At Encinitas Pro Concrete Co., we are right on top of this trend as our concrete experts pour out their remarkable creativity into designing gorgeous colored concrete surfaces and floorings for your residential, commercial, and even industrial properties. 
You may have many questions about colored concrete ranging from where best to install a colored concrete floor to how to keep the colors of your concrete vibrant for longer. Well, we're here to give answers to the most common questions about colored concrete in Encinitas.
Also, when you call us at 760-283-6733, we will offer you recommendations and fair estimates on your proposed colored concrete floor project. 
With years of vast experience, practical knowledge, and industry-standard practices in the world of concrete work and masonry work, Encinitas Pro Concrete Co. assures clients of the highest quality of concrete work delivered by capable contractors. One of our objectives is to keep our clients more than satisfied with their project outcome as well as with our excellent customer service. 
Without further ado, let's begin learning about colored concrete to know more and better understand what you'd love to achieve in your home or business with this awesome decorative concrete style.
How is Concrete Colored
Concrete can be colored from its basic grey color to more vibrant colors through four methods being: 
Acid Stains 
Integral Pigments 
Color Hardeners 
Color Dyes. 
The most commonly used method of coloring concrete is the acid stain method, which entails staining or coloring poured concrete with acid. This method is a reactive method as the concrete reacts to the acid to produce the stain, which is always a subtle, earthy color ranging from a terracotta red to light brown and even tan color. The coloring of acid stain is permanent, which is great for use on outdoor surfaces as such stains will not fade due to wear and tear or weather conditions. 
With integral coloring, which is also a well-used method, concrete is mixed with the pigment while wet then poured out to form a surface. With this method of coloring your concrete, you can rest assured that the color goes all the way through the concrete mix, which is great as it will not fade off, and if the concrete chips, there won't be any unsightly grey seen. The pigments are usually subtle earth-toned shades of brown, red, and maybe green or blue. 
The other two coloring concrete methods, being color hardeners and concrete dyes, produce more vibrant colors for your concrete but are used mainly on indoor surfaces as they tend to fade when exposed to harsh weather conditions over the years. The intensity of colors one can achieve with these coloring concrete methods allows for detailed graphics like logos on your concrete surface. 
How Can The Color of Your Concrete Be Preserved?
When you protect and care for your colored concrete driveways, patios, or walkways, the surface retains its color and beauty for many years, boosting curb appeal and property value. Depending on the type of coloring used for your concrete, maintenance requirements can be high or low.
At Encinitas Pro Concrete Co., we understand the importance of preserving the color of your concrete, which is why we recommend applying a sealer to freshly colored concrete to protect the surface from scraping, chemicals, and effects of the weather. Every few years or so, a new coat of sealer should be applied to your colored concrete driveways and any other surface to keep the color vibrant. 
Where Can Colored Concrete Be Applied
Colored concrete works great on virtually any kind of living space both indoors and outdoors. 
For Outdoor Spaces
You can create a colored concrete driveway with complementing borders. You can also pour colored concrete on your patio then stamp the concrete to create an incredible surface. Constructing your outdoor kitchen flooring out of colored concrete is a great way to turn an ordinary space into a beautiful yet functional area. A colored concrete walkway would make your home exterior look amazing as you can work with color schemes and design themes.
For Indoor Spaces
You can turn your plain concrete bedroom floor to a luxurious surface with acid-stained concrete. A basic hall concrete floor can be turned into a work of art with color hardeners. 
There are so many ways to have the beauty of colored concrete in your home!
Give us a call today at 760-283-6733 and let us bring to your home the beauty of colored concrete.