The Most Trusted Pool Deck Contractors in Encinitas, CA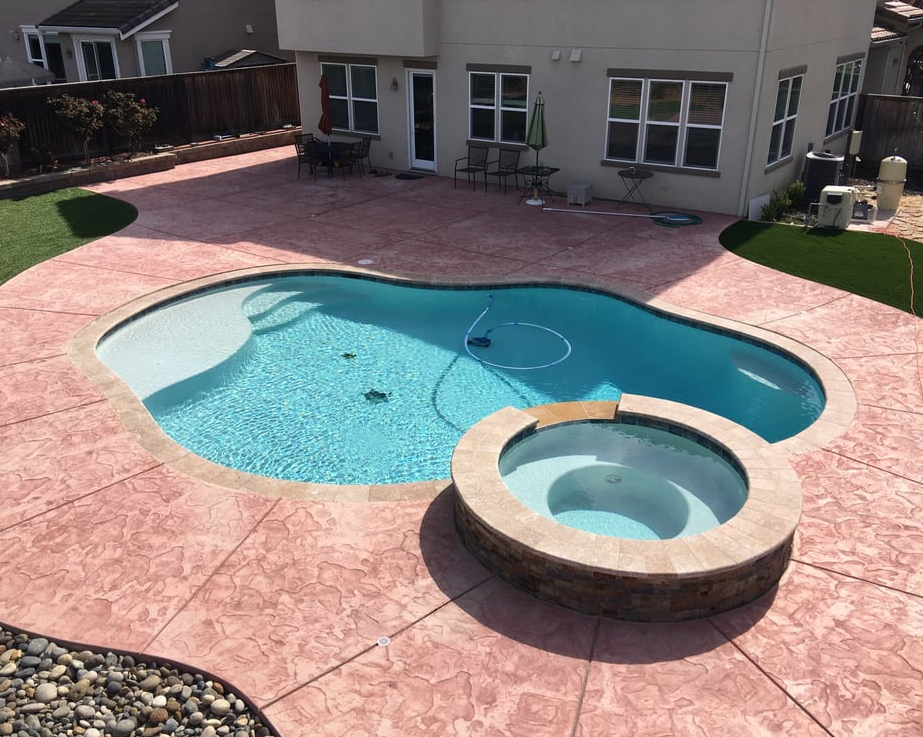 Whether you require a brand new pool deck installation or you want to renovate or resurface your current pool deck, Encinitas Pro Concrete Co. will give you the best in pool deck services in the San Diego area. We are always ready to offer you information and answer any questions that you might have. Give us a call today at 760-283-6733 and let us handle your pool deck installation work. 
The poolside is a very functional part of your home as it is an area where friends or family can relax during a warm sunny day or a cool evening. If you are planning to install a pool in your home, then you should understand the importance of having a pool deck. 
Some advantages of constructing a deck for your swimming pool are: 
A pool deck, if there is sufficient space, offers you a space for relaxing, sitting, or entertaining. It's also a great area to sit and watch the kids while they swim or play.

A kool deck can also help to keep your swimming pool clean, seeing as your feet come into contact with the deck before you enter the pool, so dirt and debris don't get into the pool.

A high-quality pool deck can also help to boost the value of your home if you ever put it on the real estate market. 
Deck Material Options For Your Pool
If you are constructing a brand new pool deck, then you're bound to be offered limitless options of decking for your pool. There are a variety of materials that can be used to deck your pool, and they are: 
Poured concrete is the first decking option that most homeowners choose as it is the most affordable, offers durability and functionality, and is water-resistant. When a poured concrete deck is broom finished, it becomes non-slip. 

Pavers come in different materials such as concrete, brick, and even stone. These pavers also can be gotten in a variety of shapes ranging from basic geometric cuts to customized molds even. 

Wood is also another commonly used material for pool decks, but care must be taken as not all types of wood can repel water or be resistant to insect damage. Wood, such as ipe, redwood, or cedar is great for pool decks as they are water-resistant and feel great to users. 
Additional Pool Deck Services
Apart from installing new pool decks for your home or business, Encinitas Pro Concrete Co. also offer our clients a range of pool deck services such as: 
Pool Deck Resurfacing 
As time goes by, the color of your pool deck will become bleached, and the texture would get dull. When your pool deck shows such signs of aging, then it's time to get your pool deck resurfaced. 
Pool Deck Repair
We offer our customers great pool deck repair services that won't break the bank. So whether you require pool deck leveling, micro-topping, crack repairs, overlays, or more, give us a call at 760-283-6733, and we will fix your pool deck in next to no time. 
Crack Repair
 Pool deck cracking? Don't dismiss those tiny cracks. When cracks begin to appear in your pool deck, it won't stop there. The damage will definitely get worse, so it's best to fix it while it's still tiny. 
Pool Deck Refinishing
We can transform your pool deck and give it a totally new look through a variety of methods like acid staining, painting, and stamp overlays. Refinishing will breathe new life into your poolside and make your backyard look remarkable. 
Pool Deck Re-Sealing
We can also reseal your pool deck as the weather, time, and foot traffic can cause the sealer to wear off. All kinds of pool deck materials benefit from being sealed. We will apply a penetrative sealer that would preserve your pool deck surface for many years to come.
Hire the Best in the Business
Encinitas Pro Concrete Co. is your licensed concrete and masonry contractor with a diligent team that is experienced in creating gorgeous concrete surfaces. Our competent specialists specialize in pool deck resurfacing for both commercial and residential locations. Contact us today and let the experts handle your pool deck in Encinitas and deliver perfection!